n e w s
April 2022
CLEOPATRA
April 8-11th, 2002
Lenfest Center for the Arts

July 2021
CLOUDS
livestream broadcast July 24th
from Schapiro Theatre, Columbia University


My curiosity in Aristophanes' play The Clouds, started four years ago and it continues to inspire me. This summer I brought together an amazing group of artists at Columbia University to direct a new adaption of this ancient comedy.

CLOUDS is the broadcast of a trial set in a speculative future in which the failures of a democratic structure are revealed through the witnesses' codified testimonies. The uncovered truth is that democracy is still flawed, words matter more than ever, and fart jokes are still funny (most of the time).

Collectively written, and rehearsed and broadcast during covid-19 restrictions, this production was an ambitious and sprawling exploration about language as technology.



June 2021


You Can't Touch My Sister I Ate in the Womb
a new play by Fiona Gorry-Hines
Schapiro Theatre June 17th-20th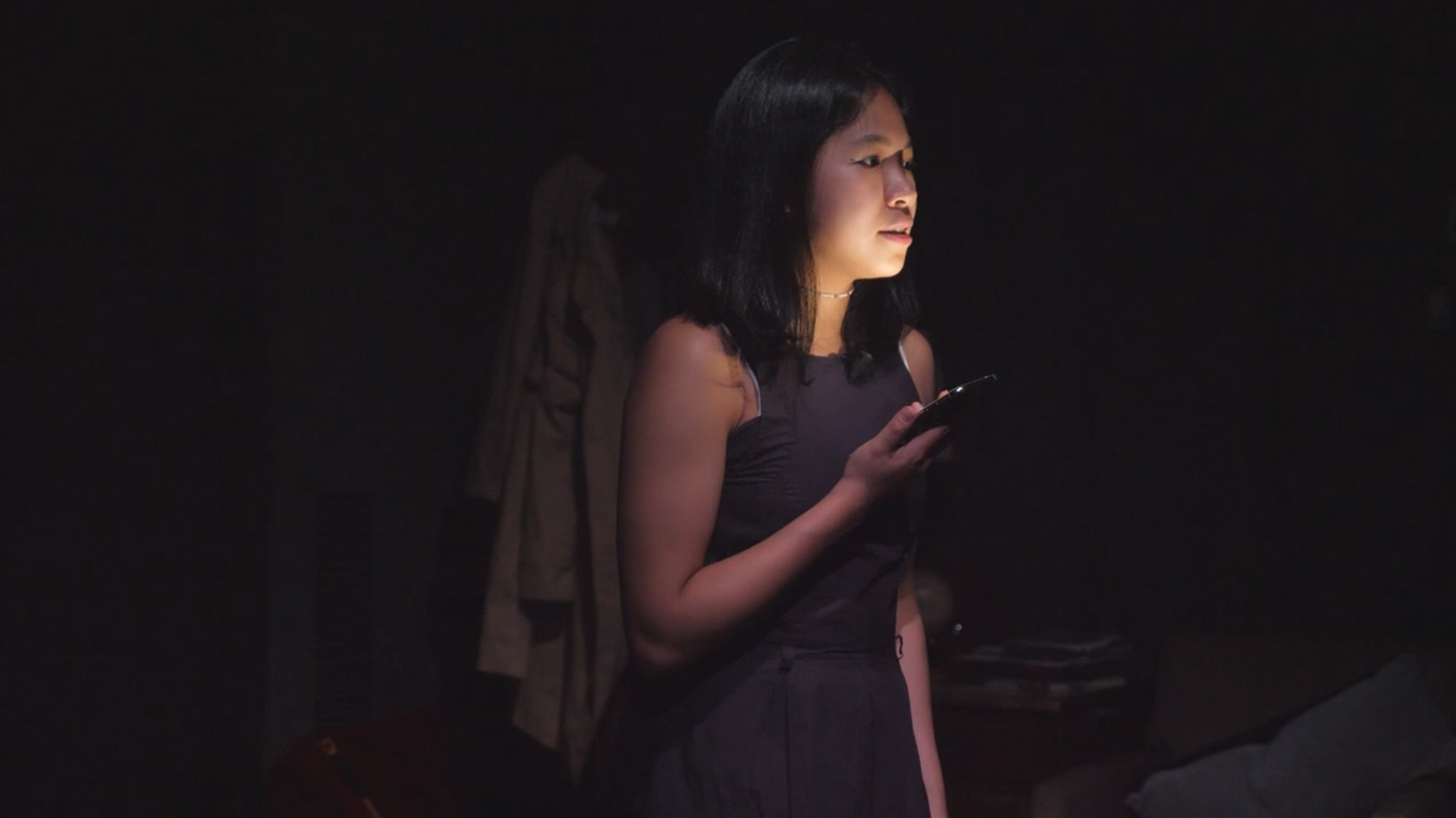 You Can't Touch My Sister I Ate in the Womb is a brilliant, hilarious and inspiring play. Formally, it's a feat - Fiona wrote the simultaneous stories of twin sisters, (one of them more tangible than the other). This was an amazing gift for a director. On the surface it's a story about consent, boundaries and finding oneself, but gradually the layers of the uncanny reflections of self that Fiona wrote into this play kept revealing themselves through the ever shifting sound of two scenes playing at the same time. It's brilliant. I hope that it gets another chance to be produced so that more people can experience this amazing immersive play. I'm honored that I got to direct it's first iteration.


March 2021
sustained silent reading
Columbia University March 15-April 24th


Initiated by the wonderful morgan mcnaught, this iteration of sustained silent reading was developed in collaboration with myself and designed by the ohyay.co wizard Liv Rigdon. Over several weeks we hosted virtual reading rooms for invited guests to be in community in a themed space. Some rooms were dj-ed and others were silent, all of them curated with the goal of having space to chat, hang out and read. The project was guided by the desire to spend time together while we were often pretty exhausted by digital liveness.





March 2021


Choreo_anus on twitch.tv

This was an exploration of Coriolanus that I had a lot of fun making. What if there was a Shakespearean ASMR channel out there? New avenues for commodifying the word$ of the bard.




(NOTE: Start video at 01:00!!)




August 2020
Alias, to be dared
SummerWorks Lab Residency
Toronto, August 10-16




I've been lucky to work with the wonderful poet and artist, Fan Wu this summer. We've taken up residency in various locations in High Park to think about the mythology of a language in decline, strategies for evacuating whiteness from English, and the all important role of aliasing.



May 2019
Other Jesus, by Evan Webber
FTA, Montreal, May 29-31




This year Public Recordings is taking it's remount of Other Jesus to the Festival TransAmériques in Montreal. We're thrilled to be able to revisit this play in a new context.



February 2019
To Valerie Solanas and Marilyn Monroe in Recognition of their Desperation, by Pauline Oliveros.
Performed by Public Recordings at Toronto City Hall, February 17th.





Led by my colleague Christopher Willes, Public Recordings assembled 18 artists to perform this iconic score by Pauline Oliveros in council chambers at Toronto City Hall.



October 2018
Noor, a new play by Erum Khan
Aga Khan Museum, October 14th-21st



Photo by Erin Brubacher


I've worked throughout the year with director Erin Brubacher and playwright Erum Khan on their new play in development, Noor. Inspired by the Ghazal, a classical form of sufi poetry, Erum's play is a meditation on love, Islam and queerness. The work finally premiered in this beautiful yurt at the Aga Khan Musem. It's been so special to work with this crew including super star sitarist Anwar Kurshid and Toronto pop-duo LAL. And we sold out the yurt!


Performance about a woman
RUTAS Festival, co-produced with Public Recordings
October 4th-8th, Toronto


Photo by The Edisons


Bea Pizano and Trevor Schwellnus of Aluna Theatre were the first to support this project back in 2014. So I was delighted when they asked me to present Performance about a woman in their festival RUTAS. It's an honour for this gringa to be included in a festival for South American artists and a gift to perform in a context where bi-lingual performance fits right in.




September 2018
Choreography across disciplines
Banff Centre, Alberta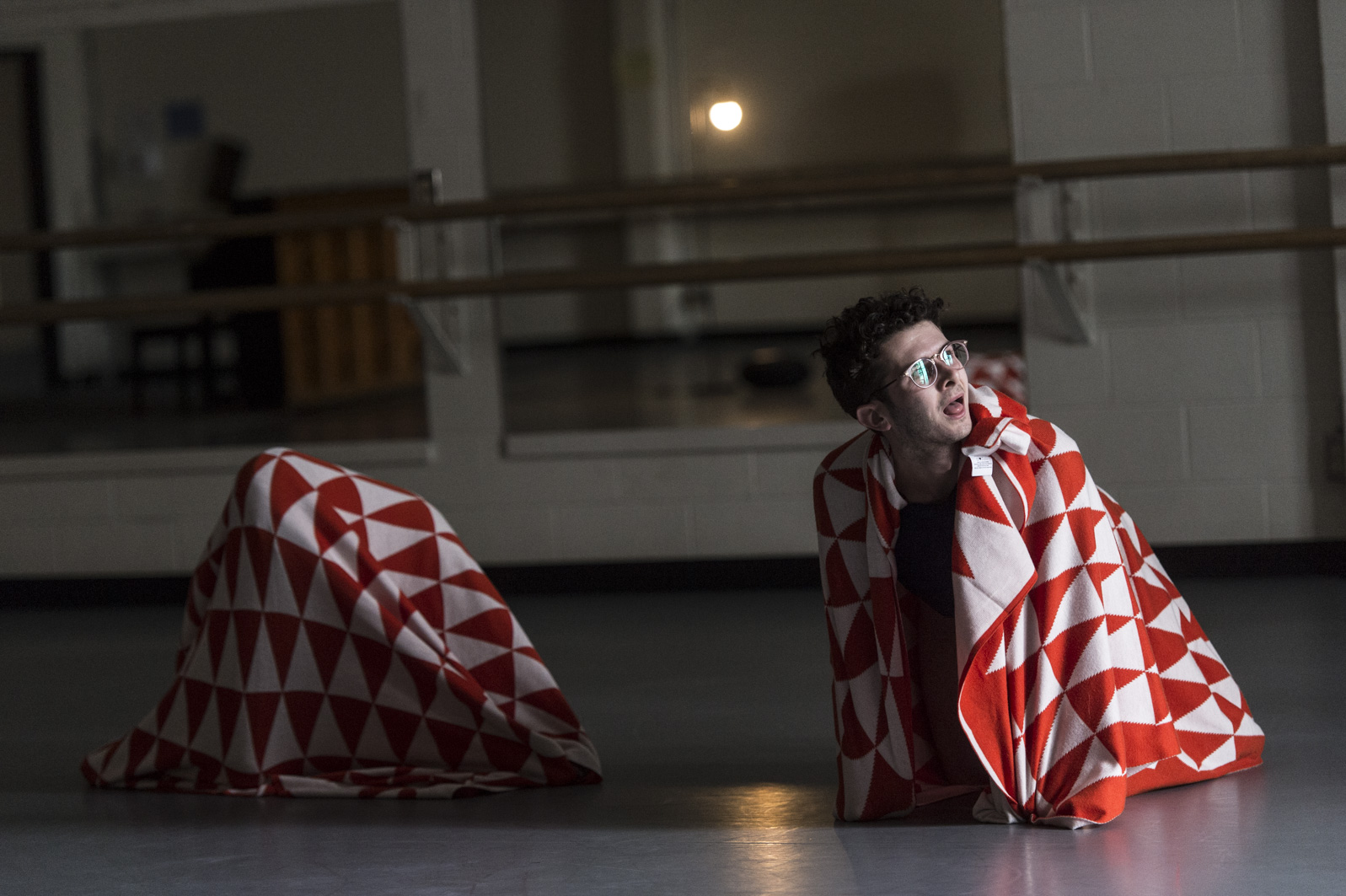 Photos by Donald Lee

I was lucky to attend this week long residency facilitated by Ame Henderson and Christopher House at the Banff Centre. Ame and Christopher brought together a magical group of eleven artists. We worked intensively every day and reflected on each other's practices. I came out of this having a clearer sense of my own work and feeling so inspired by the things that other artists were making. Also, I made this piece about ancient crustaceans coming into consciousness featuring Ayesha Jordan and Robert Fleitz. :)




August -September 2018
Borders (sin titulo), development period,
Dancemakers, Toronto.


Photo by Claire Harvie


Borders (sin titulo) is the project that Marina Colomina and myself have been nurturing for the the past year. Making use of Aristophanes' play The Clouds as the foundation for a devised performance, we spent a intensive period at Dancemakers diving deep into the clouds dilemma. Marina came to Toronto and we were joined by the amazing Supriya Nayak and Megumi Kokuba as performers with collaborators Ame Henderson, Katie Ewald, Marinda de Beer and Evan Webber. More information here!




May 2018
Performance about a woman,
offta festival, May 29th + 30th, Montreal.


Video still by Oliver Husain

I'll be in Montreal in May to present this reworking of a solo that I first made in 2014. It has been through a few incarnations and this new proposal includes some installation pieces by Oliver Husain and a new score by Matt Smith. The project has always been a vehicle for developing a practice and the title forces me to confront old ideas again. I'm challenging myself to avoid solving the problems of the work as a performer and to think of them formally. I've always felt that a return can be a real opportunity for growth and with
Performance about a woman
I'm finding this to be true.
March 2018
bloom by Guillermo Verdecchia, Feb 23rd- March 8th, Buddies in Bad Time Theatre, Toronto.

Photo by Jon Lauener

In this play inspired by T.S. Eliot's
The Wasteland
, I returned to work with Soheil Parsa and Modern Times Stage Company. It's been a powerful experience to remind myself of the meditative potential of repetition in performance. In my own devised performance work I often question what warrants repetition. But in theatre repetition is its' own kind of formal constraint. After working in improvisatory structures for the last while I've been so grateful to rediscover the process of repeating something in this production.
February 2018
Becoming by Erum Khan, February 16th, Rhubard Festival, Toronto.

Photo by Dahlia Katz

I'm delighted to have been asked to direct Erum in her solo
Becoming
. She's been working on the script in development at the Buddies in Bad Times Emerging Creators Unit. I loved having the chance to draw out the humor and vulnerability in this meditation on waiting for change.I love Erum's aesthetic and I connected so deeply with her sources of inspiration.
January 2018
Declarations, by Jordan Tannahill, January 22-Feb 11th, Canadian Stage, Toronto.
Photo by Alejandro Santiago

Together with Rob Abubo, Danielle Baskerville, Jennifer Dahl and Philip Nozuka I'll be appearing in this new work by Jordan. It's poetic and surprising and features some wonderful people.
Here is a
review
of the production.
November-December 2017